So here's a little story I'd like to tell,
About about an L90 conference to help us sell.
In Anaheim is where it all went down,
After a weekend in Vegas, we arrived in town.
The theme was war and ready to battle we came,
With new products like Excessin - who came up with that name?
No mercy was the cry as pictures of competitors exploded.
The execs even wore fatigues, their dignity not yet eroded.
On the final day we hit Disneyland and scavenged around,
Wearing colored bandanas, we looked like a bunch of clowns.
Then on the last night they pulled out all the stops.
A fancy dinner, a band, plenty of booze and hops.
Suddenly Bohan jumped on stage and called out Kappy to rap.
Keith said, "I ain't got the flow" and gave his boy Aaron a tap.
After 5 days of partying, I barely had a voice,
But I stepped up to the mic - I didn't have a choice!
I called for backup and brought up my boy Scotty.
He threw down a beatbox and got the crowd rowdy.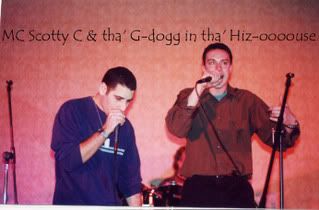 The rest as they say is history,
The night turned out to be a mystery.
After the band cut out, we headed to the CEO's suite,
Raiding the mini bars and drinking bourban neat.
From there, the rest of the night really flew,
Last thing I remember is drinking out of Cowan's shoe.